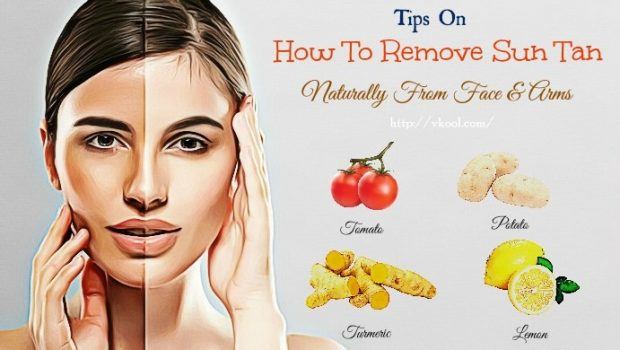 Summer means dealing with the Sun Tan. While many Westerners love getting an even tan and flaunt it. We often try to do all we can to remove tan lines, Which be quite a task. Sunscreen blocks are sure to help you a Bit, But there are effective home remedies that help get rid of a tan too. Let's find out how to remove sun tan naturally at home – 
LEMON JUICE AND HONEY
Lemon juice can bleach off tan from the skin. Take the juice of two lemons, add one teaspoon of honey to it, and apply to the areas of your skin that you need to de-tan. Leave it on for 30 minutes, and rinse.
YOGURT AND TOMATO
Tomato is rich in antioxidants that help in brightening skin tone. Yogurt, On the other hand, Contains lactic acid which softens the skin. The two together can work Wonders on sun-kissed skin. De-skin one raw tomato,
Blend it with two teaspoons of yogurt  (if it's sour, better). Apply this mix evenly across the tanned areas; Wash it off after 20 minutes.
BENGAL GRAM FLOUR AND TURMERIC
Turmeric is an excellent skin- brightening agent, While Bengal gram flour (besan) when mixed with raw milk, tones the skin. Take about half a cup of Bengal gram flour, add one teaspoon of turmeric powder to it. Make a thick paste of the two using raw milk. Apply this mix as a pack on your face and body, and leave it to dray. Gently scrub it using lukewarm water. Use re regularly to maximize the effects.  
HONEY AND PAPAYA
Papaya is rich in natural enzymes that have skin bleaching and exfoliating properties. Honey, on the other hand, is a natural moisturizer and a skin – soothing agent. Take four or five cubes of ripe papaya; the riper, the better. Add 1 teaspoon of honey to it and mash it up using the back of a spoon or a fork. Mix well until a smooth paste is formed. Apply this paste all over the tanned skin and let dry. Wash it off after 20-30 minutes with water.
MASOOR DAL (RED LENTIL), TOMATO AND ALOE VERA PACK
Masoor dal is an effective remedy in treating suntan. Tomato juice brightens the skin, while aloe vera soothes and moisturizes it. A pack of all the trees is all the treatment your skin needs in this balmy weather. Soak two tablespoons of masoor dal in water overnight. The dal in water overnight. The dal will be soft in the morning. Drain the water, and blend the dal, add one teaspoon of Aloe Vera gel and half a tomato, to form the paste. Apply the paste on the exposed areas, leave on for 30 minutes and rinse with cold water.